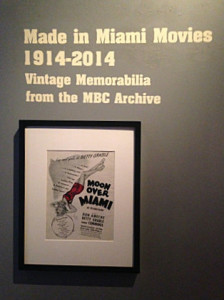 Miami and Florida's filmic history, like many of its histories, is thick with a richness that asserts their cultural significance, and backwater peculiarities, equally so.
Made in Miami Movies, 1914-2014, an exhibition currently running at the Miami Beach Cinematheque, displays the varied and impressive lineage of films shot or based here: from silent films by D. W. Griffith such as Love Flower and Idol Dancer, to Golden Age Hollywood films such as Moon Over Miami, to groundbreaking canonical works including Midnight Cowboy and The Godfather Part II.
The exhibition is drawn from MBC's massive archive of film memorabilia. Formed by the collection of Dana Keith, MBC Founder and Director, the show includes clusters of program booklets, promotional posters, film stills, postcards, and other rare ephemera adorning the walls and encased in display cases. Presented salon style, the materials convey a layered heritage.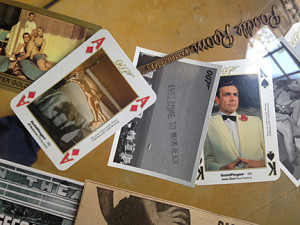 That heritage began when Jacksonville, Florida was Hollywood, before Hollywood was Hollywood.
Cinema, first publicly shown in 1896, was in its embryonic stage when The Gator and the Pickaninny was filmed in that central Florida city in 1900. A number of movies made during the early 20th century, such as 20,000 Leagues Under the Sea from 1916 (the most costly movie of the first twenty years in cinematic history, shot off the coast of Florida and the Bahamas), went on to not only influence film as a medium, but also xenical film's unique reflections and representations of people and place.
Specific early themes were African Americans in a Southern context—such as in Birth of a Race, a film shot partly in Florida in response to the racism of Birth of a Nation—and the crime-ridden frontier quality of Miami and Florida, a theme that's remained constant throughout Miami (film) history.
Made in Miami Movies 1914-2014 also bears the illicit, sexual, and violent celluloid genealogy of local film culture. Deep Throat, the 1972 pornography purported as the first with a real plot and perhaps vaguely feminist POV, had several filming locations throughout Miami, as did a number of landmark exploitation flicks such as Herschell Gordon Lewis' Blood Feast (which had a 50th Anniversary screening presented by Herschell at MBC on Halloween 2013).
Elaborate vintage movie program booklets sit next to a Miami Vice VHS tape and original release posters for films such as A Hole in the Head, The Bell Boy, and Reno 911: Miami. Back lit negatives of characters important to Miami film history, like the image of Al Pacino in Scarface, sit somewhere close to a rare signed photograph from the 1923 film The Lotus Eater, starring John Barrymore—which no film copies exist of.
-Rob Goyanes
Made in Miami Movies 1914-2014, Miami Beach Cinematheque
On view until August, 2014